How Wide of a Rotary Oil Filled Drum Heat Press Should You be considering?
Monday, September 25, 2017 :: Blog
The width of a rotary heat press is usually stated at 1.7 meter or 68", then 2.6 meter or 100" and up to 3.2 meter or 130" wide. The actual heat press is much larger, with this being the drum width and approximate nomex belt width. Our Eastsign oil filled drum heat presses come in a variety of configurations that meet entry level, mid level and extremely large volume requirements. We work closely with you to select the right size heat presses for your current and future production needs.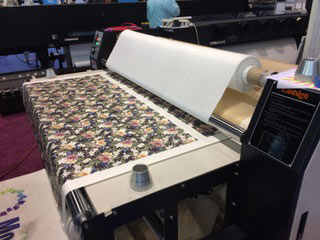 Our SOT line covers the 44" and 67" entry level with an 8" oil filled heat press drum. Belt widths are slightly larger on these and they are quite affordable, costing about 1/2 less than most presses on the market. The oil filled drum rotary heat press offers more uniformity and consistency than the IR or electric heat type. If you are serious about quality, then the Eastsign oil filled drum is the choice.
The MOT & RTR versions run in the 1.7 meter or 68", then 2.6 meter or 100" and up to 3.2 meter or 130" wide on the RTR or roll to roll larger unit. The key feature of the MOT or multifunction, along with the entry level SOT is the feed table system. This allows you to run piece goods, cut goods and all over apparel, as well as roll to roll in that system. Sort of like 3 heat presses in one, that's pretty cool!
Often, the heat press units are used for industrial heat fixation of wider fabrics printed direct as well.
Sizes of oil filled drums in the more industrial strength versions run from 420mm, 600mm, 800mm and 1 meter sizes. There is also a 1.5 meter size in the HS or High Speed model for extremely large volume requirements. A detailed chart with drum sizes and drum or press width is available on our web site or by contacting us.
As consultants and providers to the dye sublimation industry, Digital 2 You has the expertise in guiding you through the 12-18 month learning curve and process of taking production dye sublimation to a profitable level. By providing the right dye sub wide format printers and matching them to the right heat press solutions, we can offer your group a turnkey equipment package to meet your production needs. Digital 2 You and USAheatpress are the exclusive importers of the Eastsign SOT versions of heat presses and offer US stocking of inventory for prompt shipment, installation & training options, parts stocking in the US and a network of dealers to support your local needs. For more information on Epson wide format dye sublimation printers & Eastsign SOT, MOT, or RTR rotary heat presses, please contact Dennis Halley at 720-480-5196.
PDF DOWNLOADS
Rotary Transfer Slide
Rotary Heat Press Comparison
IMAGES FOR THIS POST